The goal of modern implant dentistry is to return patients to oral health in a predictable fashion. The partially and completely edentulous patient may be unable to recover normal function, aesthetics, comfort or speech with traditional removable prosthesis.
The patient's chewing and eating ability will often be reduced to 25% of natural dentition when wearing complete dentures. However, an implant-stabilized and totally supported prosthesis will often return function to near normal limits. The aesthetics of the edentulous patient are also affected as a result of bone atrophy. Continued resorption leads to irreversible facial changes, with the chin becoming much more prominent and the red border of the lips becoming less visible. The face takes on the appearance of premature aging with the decreased facial height, which can be corrected with newly designed prosthesis. Correct positioning of teeth will also improve speech, especially the sibilant or "S" sounds and fricative or "F" sounds, which may have changed with the defective prosthesis.
An implant stimulates the bone and maintains its dimension and density in a manner similar to healthy natural teeth. As a result, the patient's facial features are not compromised by lack of support. In addition, implant-supported restorations are positioned in relation to aesthetics, function and speech, not in "neutral zones" of soft tissue support.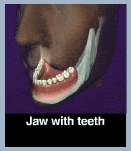 The soft tissues of the edentulous patient's jaw are often tender from the effects of thinning mucosa, decreased saliva flow, and unstable and moveable prosthesis. The implant-retained restoration does not require tissue support and improves oral comfort. Finally, speech and function are compromised with removable prostheses, in which the lower complete denture may move as much as 10 millimeters from the supporting structure during function. The tongue and perioral musculature may be compromised to limit the movement of the mandibular prosthesis. The implant overdenture prosthesis is stable and retentive without the efforts of the musculature and therefore, offer more predictable treatment. Implant-supported teeth offer a more predictable treatment course than removable complete dentures. The dental profession, insurance companies and public are becoming increasingly aware of this.
To learn more about dental implants in Overland Park, Kansas, and book a visit with Dr. EDward M. Amet, our prosthodontist, contact Reconstructive and Implant Dental Center at 913-534-8801 today.
Follow the links below to learn more about specific types of treatment utilizing dental implants: