COMBINATION SYNDROME & CORRECTIVE TREATMENT
Combination Syndrome is a description of a dental condition that is the result of long-term use of a few (usually six) remaining lower anterior teeth, #22-27, a complete upper denture with no other natural remaining teeth, and a lower free-end Kennedy class I removable partial denture. The normal biting pressure (or forces) are directed from the remaining lower six teeth and transmitted through the upper anterior denture with resulting resorption of bone, as well as slow auto-rotation and tilting of the denture (upward and backward), with the upper anterior teeth becoming less visible and the upper posterior teeth becoming more visible, as the denture is rotated from function with bone loss of the premaxilla.
There may be seven characteristics associated with this syndrome: 1. Bone loss in the premaxilla. 2. Dropping of the posterior maxilla (tuberosities). 3. Extrusion of the lower anterior teeth. 4. Posterior bone loss in the mandible under the RPD. and 5. Papillary hyperplasia of the maxilla. 6. Decreased Occlusal Vertical Dimension. and 7. Facial aesthetics often altered dramatically.
The change in facial aesthetics from the resulting combination syndrome is a challenge to restore with traditional dentistry as the prosthetic solutions are limited, the age of the patient is often a limitation, and financial costs are of concern. A technique that decreases treatment time and costs with excellent aesthetic results is presented below.
The treatment time can be reduced to ONE SURGICAL VISIT in many cases, with all treatment completed in one week with follow-up visits needed approximately once a week for several weeks.
To learn more about treatment for combination syndrome in Overland Park, Kansas, and to set up a visit with our prosthodontist, Dr. EDward M. Amet, contact Reconstructive and Implant Dental Center at 913-534-8801 today.
All Surgery Done in One Day – Total Active Treatment Time for Case Shown is About Two Weeks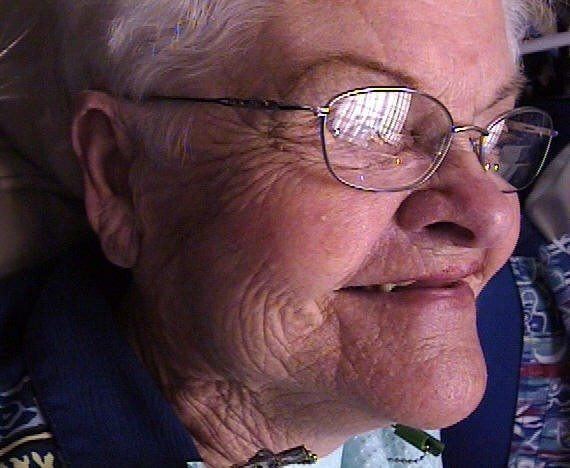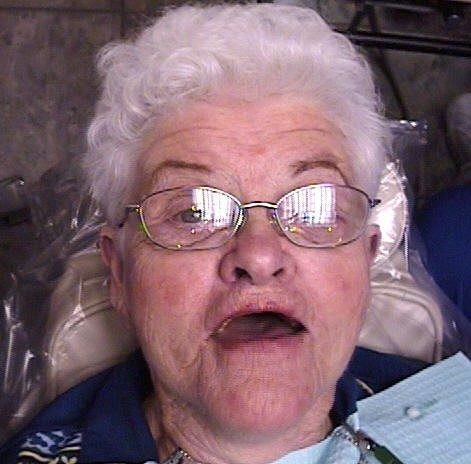 Classic Combination Syndrome
§1. All maxillary teeth missing.
§2. Advanced bone loss premaxilla with soft tissue replacement.
§3. Six or more mandibular anterior teeth present, long-term use Kennedy class 1 RPD and advanced bone loss posterior mandible.
4. OVD much less than ideal, need to change 15mm.
5. Facial aesthetics altered dramatically.
Pre-Operative: Radiograph With Advanced Bone Loss Maxillae & Mandible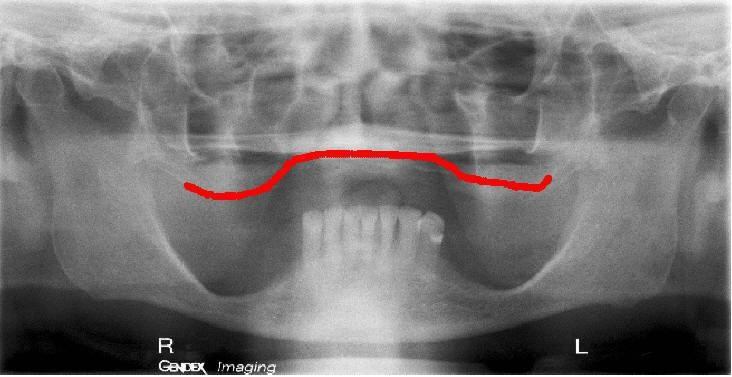 Original Appearance WITHOUT Maxillary and Mandibular Prosthesis in Place and Inadequate Facial Support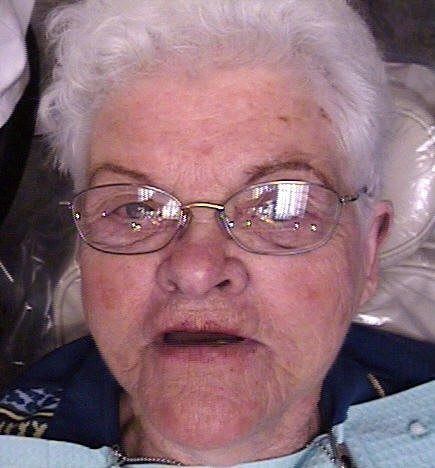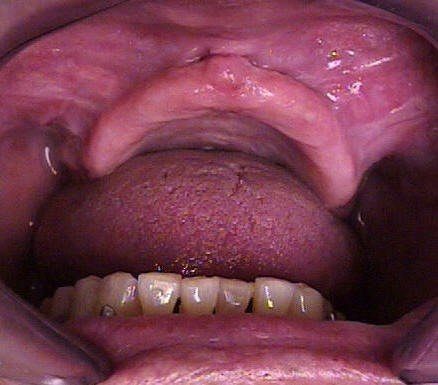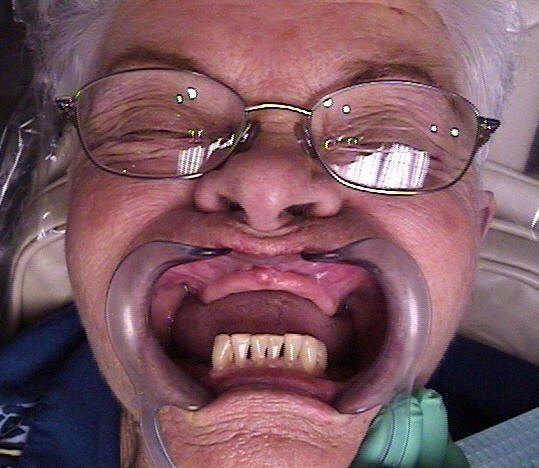 Original Appearance WITH Maxillary and Mandibular Prosthesis in Place Demonstrating Inadequate Facial Support and Improper Plane of Occlusion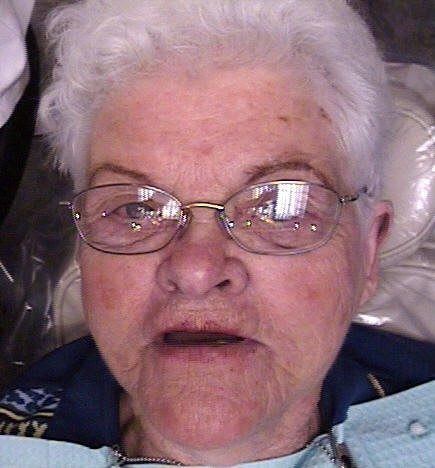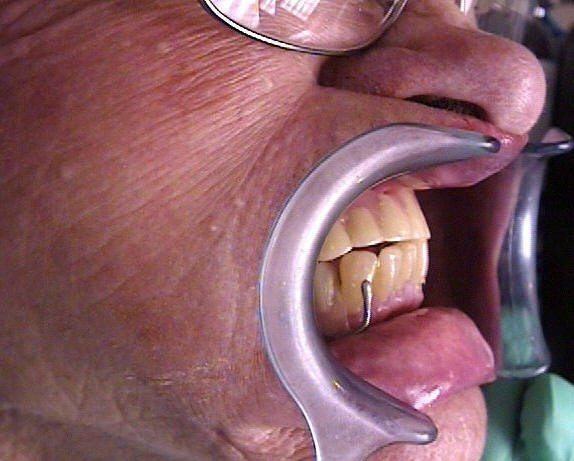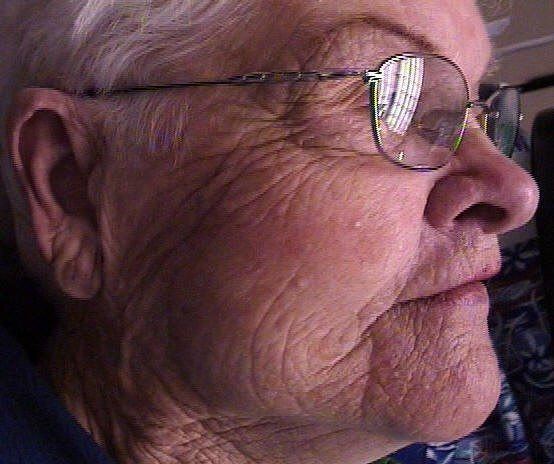 SEQUENCE FOR ONE APPOINTMENT
SURGICAL TREATMENT
§1. PRE-SURGICAL/ PROSTHETIC PLANNING: Prostheses completed prior to surgery with image capturing and referencing.
§2. SURGICAL/ PROSTHETIC PHASE:
§ a. Maxillary "PermaRidge" grafting completed first, upper immediate denture ready for insertion.
§ b. Extractions, alveoplasty and insertion of mandibular implants and healing abutments, immediate lower denture and soft liner ready for insertion.
§ c. Minimal invasive surgical technique allowing surgical correction and final implant connecting bar impression the day of surgery.
§3. ANESTHETIC CONSIDERATIONS: Appointment length, surgery, need for sedation dentistry.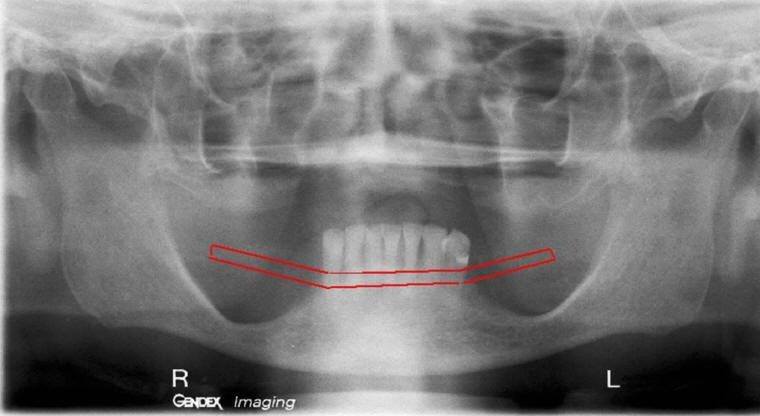 Pre-Operative Radiograph for Treatment Planning With Diagram Showing Approximate Position of Implant Connecting Bar and Plane of Occlusion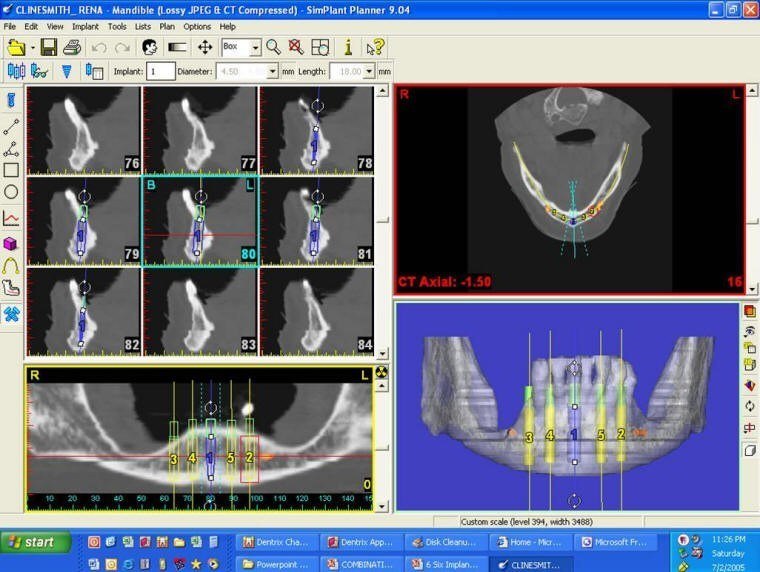 Pre-Operative: Simplant 3D Image Software Used for Treatment Planning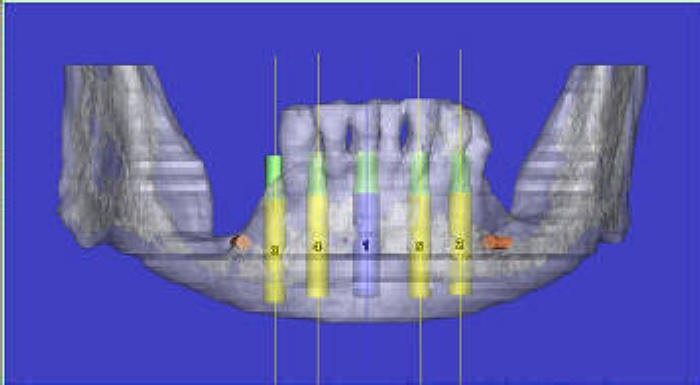 Pre-Operative: 3D Moveable Translucent Image With Simulated Implant Placement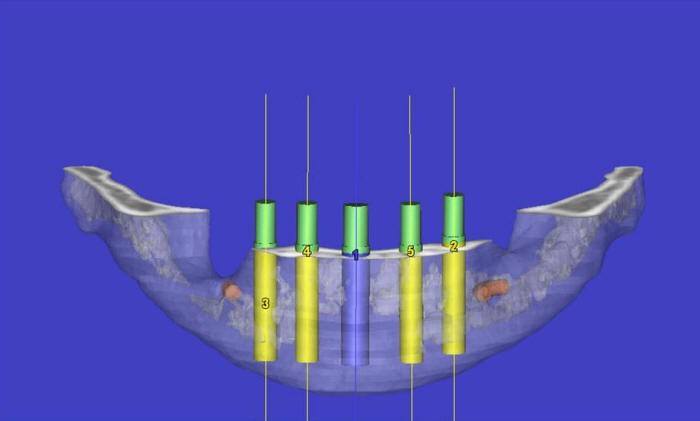 Pre-Operative: 3D Moveable Translucent Image Simulated Alveoplasty With Simplant Program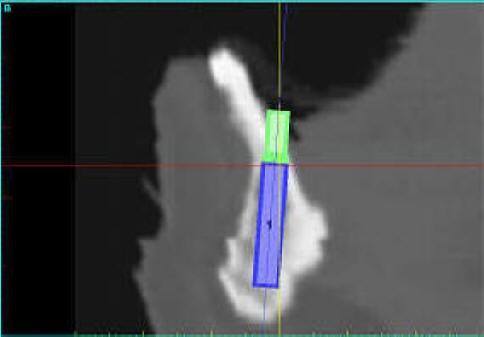 Pre-Operative: Cross Sectional Oblique Image Aids in Determining Ideal Implant Diameter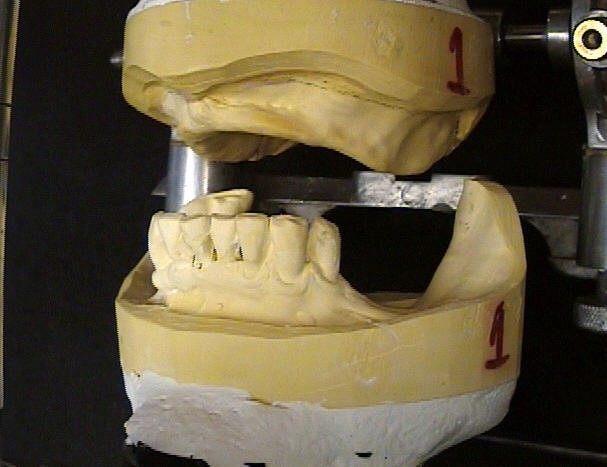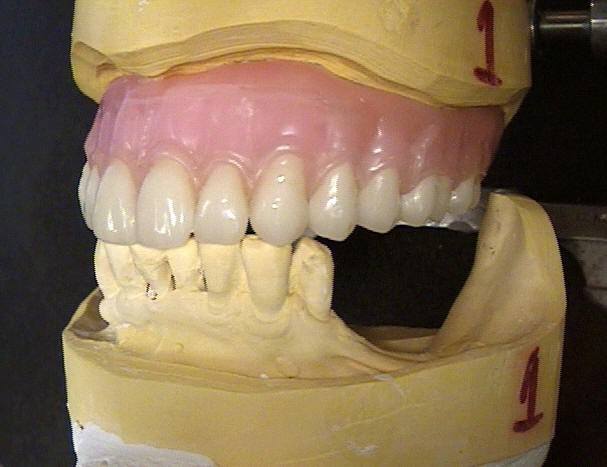 Pre-Operative: Fig 1. New OVD With Original Lower Teeth Fig 2. Upper Denture Set-Up With New OVD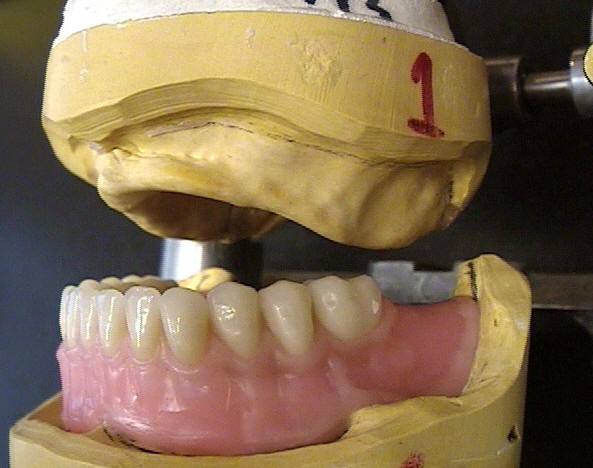 Pre-Operative: Fig 3. Lower Denture Set-Up With Denture Teeth Matching Original Tooth Position
Appearance at a Younger Age, Appearance as Patient Presented Smile at Wax Try-in Prior to Surgery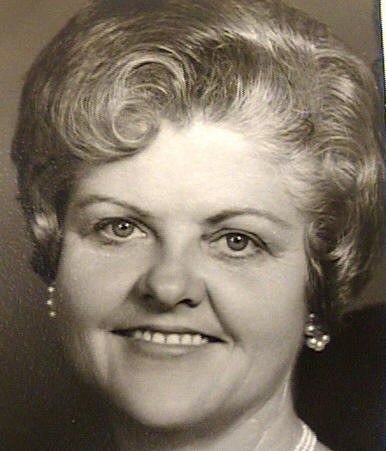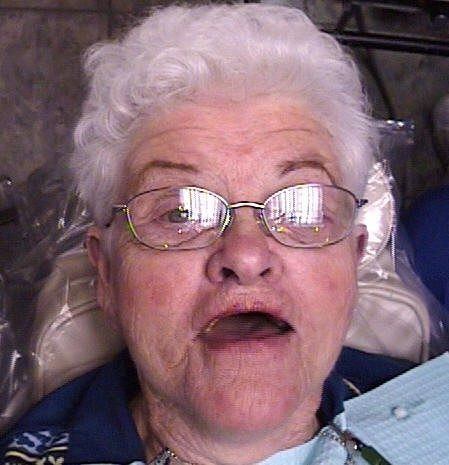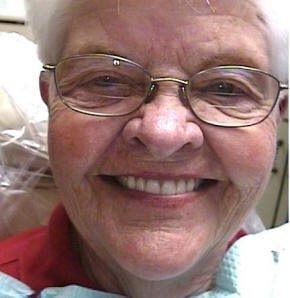 Pre-Operative Photograph One Day Post Surgery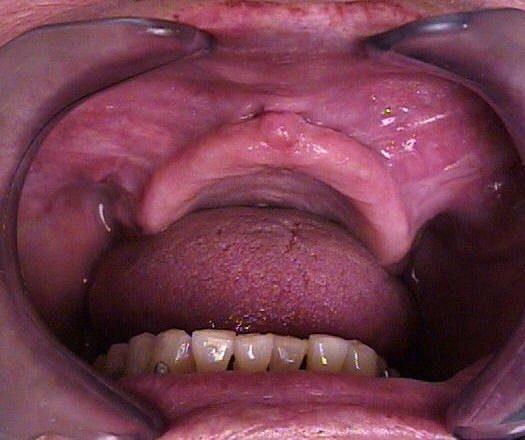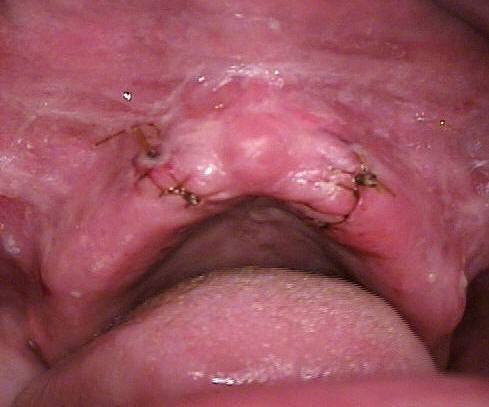 Grafting SOFT TISSUE with Hydroxylapatite
1. Two incisions are made in area of the cuspids through keratinized tissue to the bone.
2. A series of instruments are first used in the posterior segments to tunnel and raise the periosteum off the bone, to the length required, then in the anterior segment.
3. Next straight taper instruments are used to enlarge the tunnel and dilate the tissue, creating room for the "Permaridge" HA graft.
4. Next, a cutting osteotome is used to plane the bone in the tunnel, smoothing out the rough areas, creating a smooth passage.
5. Finally, the graft carriers are used to carry either the 4.5mm or 6.0mm sections of the "Permaridge" HA graft. 4-0 gut sutures are then used to close the two openings.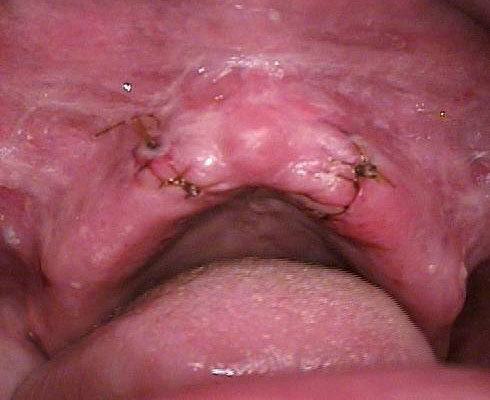 Day After Surgery: The Soft Tissue Takes on the Created Shape of the Inner Surface of the Denture. The Denture Must Fit Grafted Tissue Loosely on Its Inner Denture Surface.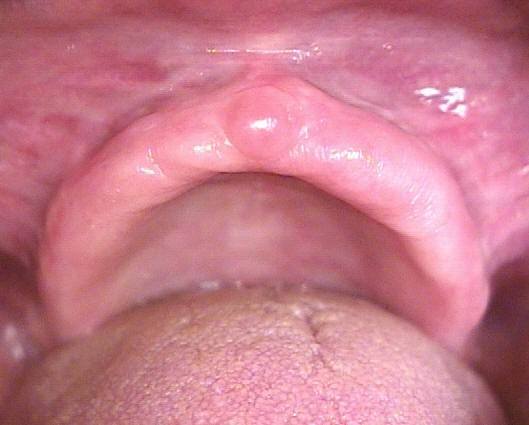 Six Months Post-Operatively: Maxillary Tissue is No Longer Loose, Now Has Load Bearing Capabilities.

Grafting SOFT TISSUE with Hydroxylapatite for Reconstructive Success
1. Soft tissue graft must not be loaded during healing by immediate maxillary denture.
2. Vestibule, hard palate and remaining non-grafted tuberosities support the maxillary immediate denture.
3. The key to successful grafting is the change in occlusal forces with an unloaded HA graft. Six surgical instruments are used to create an ideal site. The denture supports the graft, and the totally implant-supported mandibular prosthesis allows control of the occlusal forces to the grafted ridge.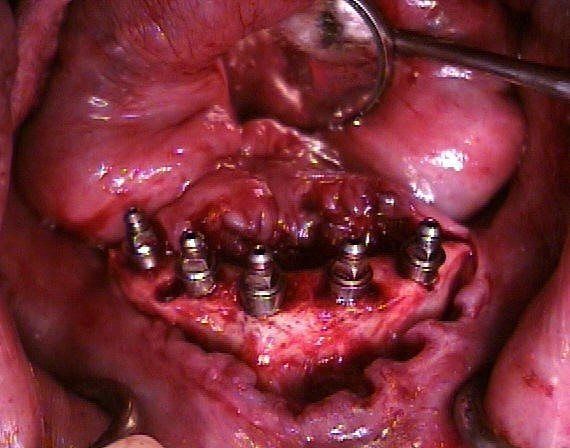 Same Day of Surgery. Alveoplasty with 3D Implant Placement & Grafting. Immediate Loading Length Determined by Bone Density. (MIS) Minimal Invasive Surgery.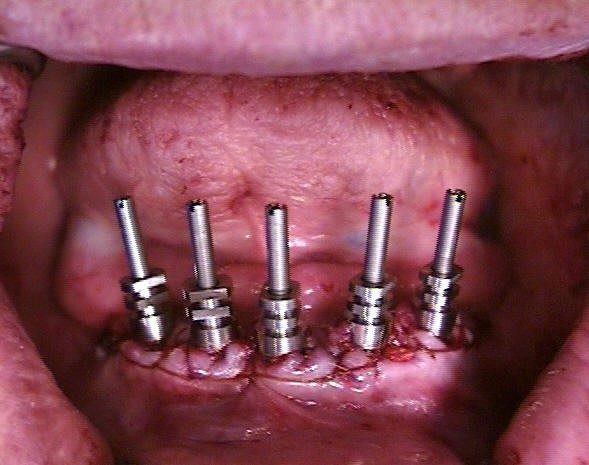 Day of Surgery. M.I.S. Allows for Final Impression for Implant Connecting Bar. Polyether Material of Choice for Final Impression.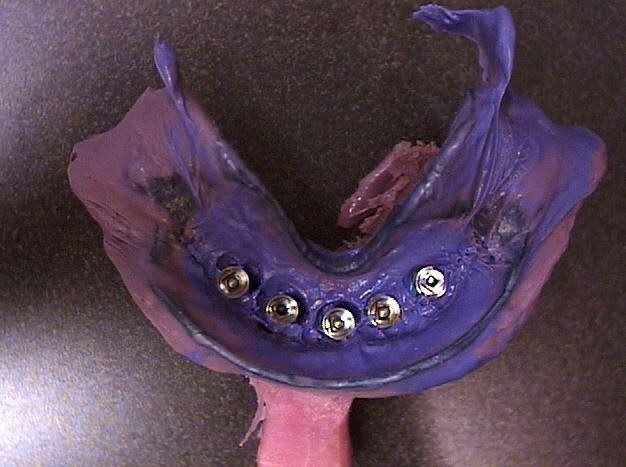 Day of Surgery. M.I.S. Allows for Final Impression for Implant Connecting Bar. Polyether Material of Choice for Final Impression.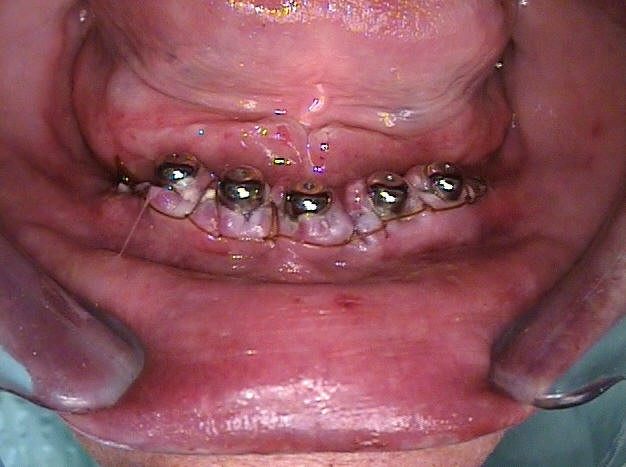 Day of Surgery: Minimal Invasive Surgery Contributes to Rapid Healing.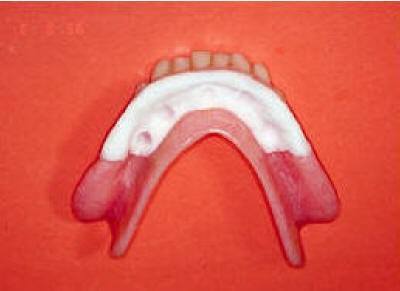 Day of Surgery: Soft Liner Placed Day of Surgery, Patient Never Without Teeth.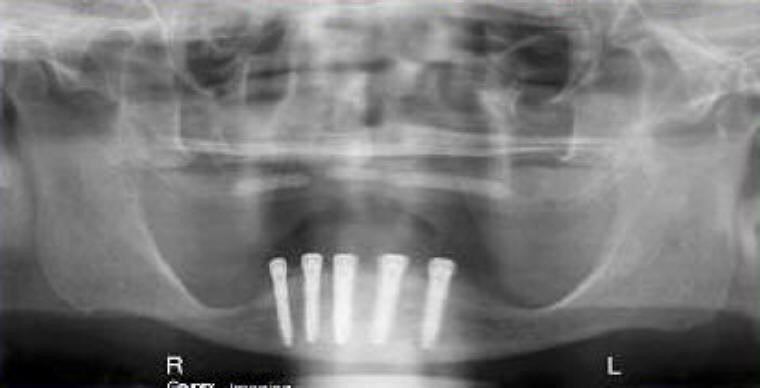 Post-Op Surgery: Radiograph Taken Day After Surgery.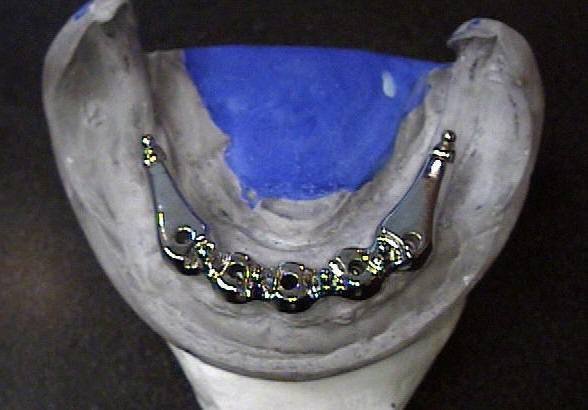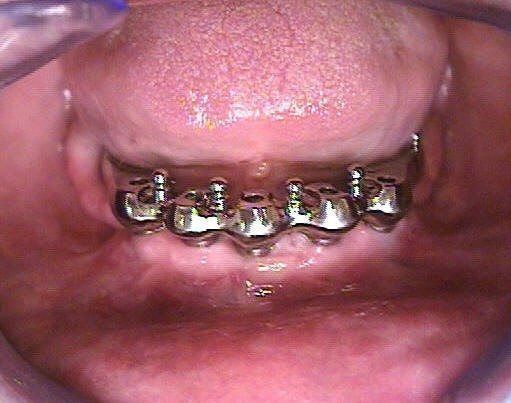 Post-Op Surgery: Implant Connecting Bar Constructed &smp; Placed on Third Day. Post-Op: Six Months Follow-Up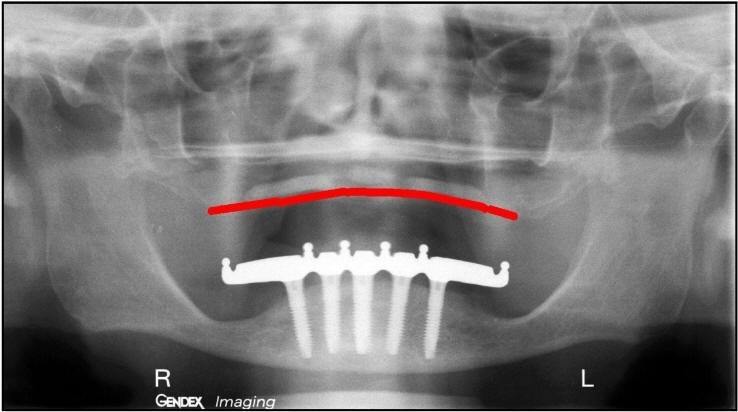 Third Day Following Surgery: Final Impression Taken Day of Surgery. Bar Try-In & Jaw Relationship Day 3.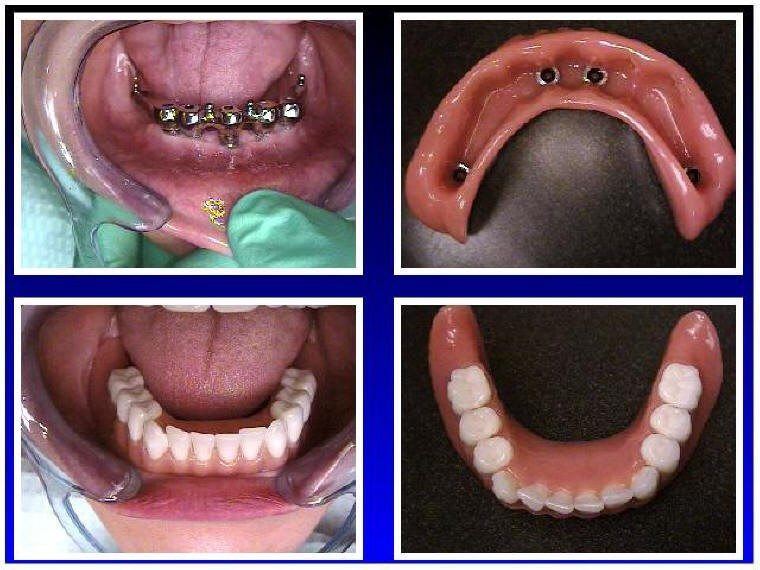 Six Months Post-Op: Completed Mandibular Implant Therapy With Posterior Supported Occlusion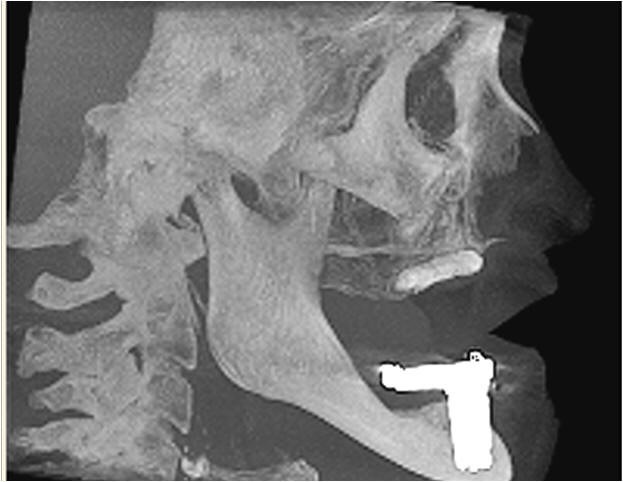 Five Year Post-Op: Radiograph with Load Bearing Maxillary HA Grafted Ridge.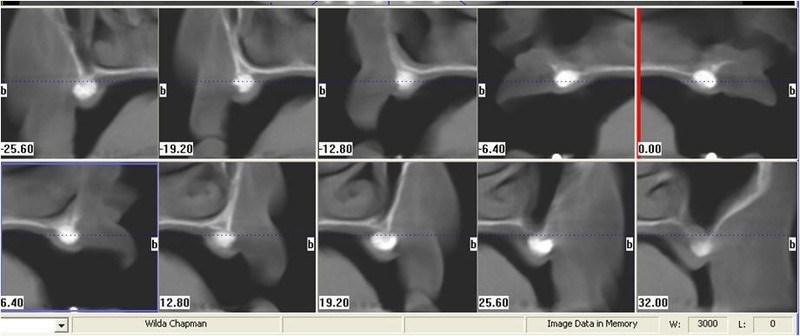 Five Year Post-Op: "I-CAT" Radiograph With Cross Sectional Areas of Maxillary HA Grafted Ridge.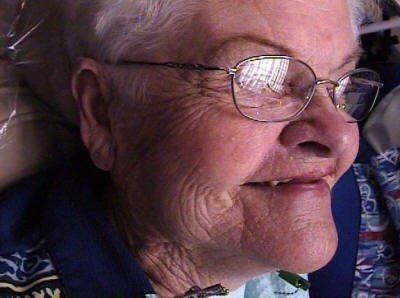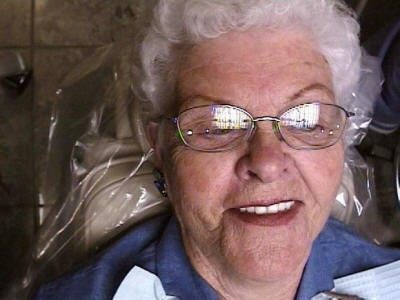 Pre-Operative Picture 6-Months Post-Operative Picture.
SURGICAL/PROSTHETIC CORRECTION
Classic Combination Syndrome
1. Maxillary teeth repositioned for normal overjet/overbite and aesthetics.
2. Advanced bone loss premaxilla corrected with HA soft tissue graft.
3. All mandibular anterior teeth removed and replaced with implant connecting bar and totally implant-supported mandibular overdenture.
4. OVD more ideal, changed approximately 15mm.
5. Facial aesthetics improved dramatically
Rapid & Predictable Correction
COMBINATION SYNDROME
Surgical/Prosthetic Considerations
KEYS TO SUCCESS ARE:
1. Simplified HA grafting procedure with the use of surgical instruments to create ideal sites.
2. Immediate maxillary denture that supports the graft and allows uneventful healing.
3. Controlled occlusal forces on the "PermaRidge" HA graft with denture support from tuberosities, hard palate and vestibule.
4. Finally, the totally implant-supported fixed/removable mandibular prosthesis provides control of the occlusal forces.