REPLACING DEFECTIVE BRIDGEWORK AND FAILING TEETH WITH IMPLANT BRIDGEWORK
The treatment of the partially edentulous patient for dental implant therapy is based on evaluation of the soft and hard tissues (Fig 1 & 2). Appropriate A-rays are needed, as are accurate pre-treatment mounted diagnostic casts (Fig 3 & 4). Likewise, during the diagnostic phase of implant treatment planning, conventional prosthodontic protocol is followed. This facilitates the construction of treatment teeth for the proposed surgical sites. Patient acceptance of these teeth or prosthesis will aid in determining if a fixed bridge or overdenture prosthesis is indicated or if grafting is required to change the type of prosthesis. The aesthetic and functional position of the teeth should be determined and accepted by the patient using this prosthesis prior to any X-rays or surgical intervention. Once evaluated and approved by the patient, a duplicate is constructed for X-ray implant determination using a CT scan record base (Fig 5). The following is a series of pictures of the patient's need for implant therapy in the upper left posterior area, with extractions and immediate implant placement completed. The final prostheses is shown, along with the provisional restorations (Fig 13 & 14) worn for aesthetic and functional loading. The final prostheses color and shape have been coordinated for appearance and harmony with the previous dental treatment (Fig 17 & 18).
Contact Reconstructive and Implant Dental Center at 913-534-8801 today to learn more about replacing dental bridges with dental implants in Overland Park, Kansas, and set up a visit with our prosthodontist, Dr. EDward M. Amet.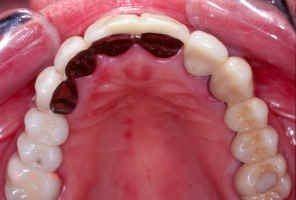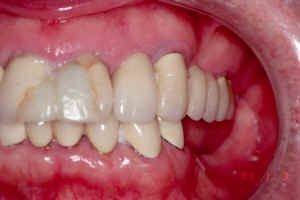 Fig 1 & 2: Defective Bridgework and Failing Teeth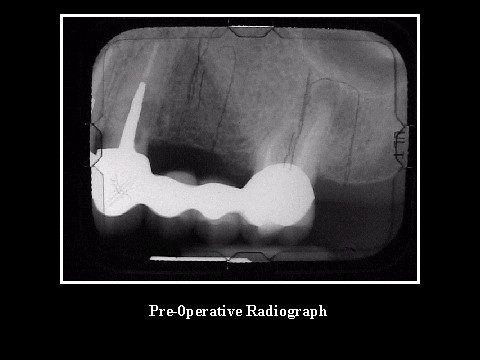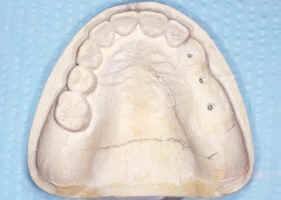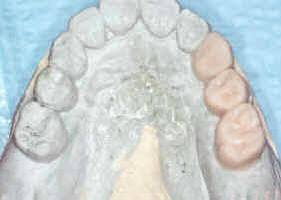 Fig 3 & 4: Diagnostic Cast and Wax-Up for Implant Placement Planning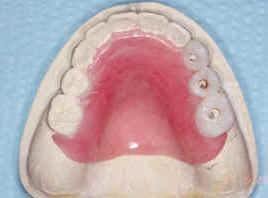 Fig 5: CT Scan Record Base Used for Implant Placement Planning and Surgical Template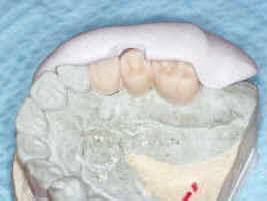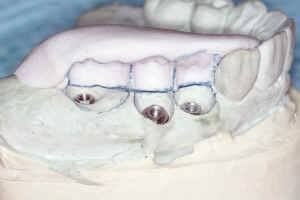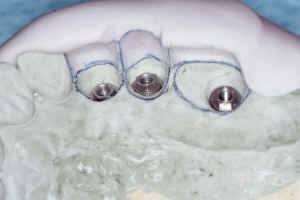 Fig 6, 7 & 8: Master Casts Used With Diagnostic Wax-Up to Create Socket Sites for Custom Abutment Construction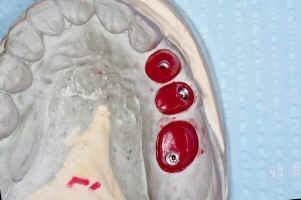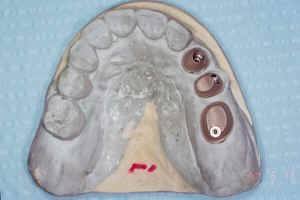 Fig 9 & 10: Wax-Up and Castings of Custom Abutments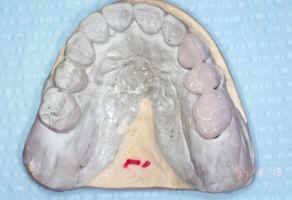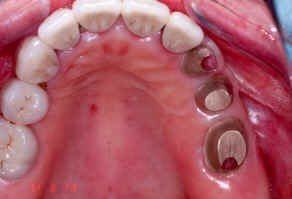 Fig 11 & 12: Treatment Restorations Made in Laboratory for Provisional Implant Loading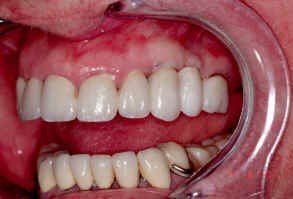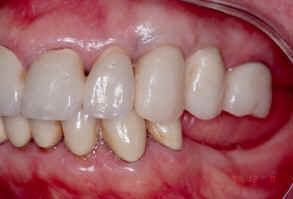 DAY OF INSERTION AFTER EIGHT WEEKS OF PROVISIONAL LOADING Fig 13 & 14: Treatment Restorations Seated to Allow for Provisional Loading and Ideal Soft Tissue Health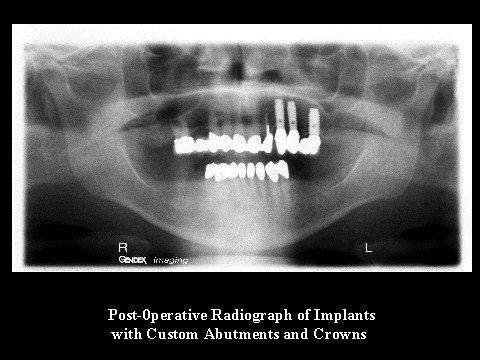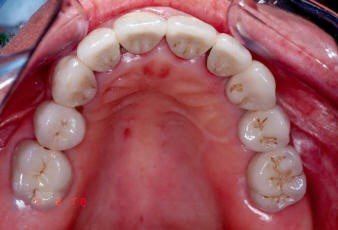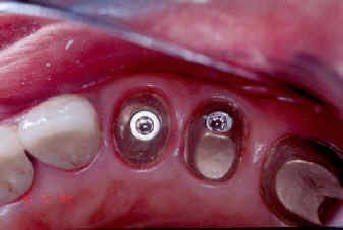 Fig 15 & 16: Ideal Healthy Tissue Present at Time of Final Impression After Wearing Provisionals to Load Implants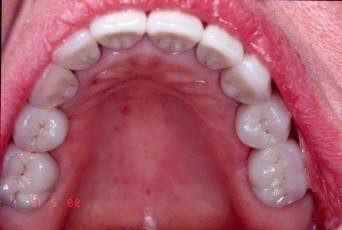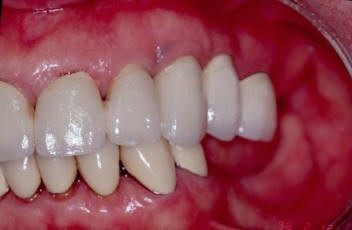 Fig 17 & 18: Completed Treatment: Implants Placed With Bone Expansion Technique and Custom Abutments for IMPLANT BRIDGEWORK