Crown & Bridge Dental Treatment
At Reconstructive and Implant Dental Center, our prosthodontist has been helping patients for years, to create healthier smiles. We perform dental crown and dental bridge treatments in Overland Park, Kansas.
The prosthodontist treating a patient can do much to improve the appearance and natural beauty of the face with the improvements in tooth shape, form, surface texture and color. Dr. EDward M. Amet has found that is usually not difficult on casual meeting to detect a person who has artificially constructed crowns. A dark line at the gum tissue or thick bulky teeth detracts from realism. The lips often appear lengthened and tense or wrinkled in an attempt to conceal the anterior teeth. The result is a lack of a pleasing appearance, caused by the change of facial appearance from the dental treatment.
An approach to improved facial and tooth appearance is with either Porcelain Fused to Metal (PFM) or all ceramic crowns. This would be indicated in cases where decay, extensive wear or existing defective fillings or crowns would be improved by such treatment.
The more sophisticated porcelain crowns use a multi-layering porcelain technique and the color is built in. The margins or junction of the crowned teeth also might be made totally out of porcelain and blend into the root without a dark line. Finally, the artistic skill of the dentist and technician determines the end result.
Since the laboratory plays such an important role in the final result, its proximity to the dental office either through location, electronic transferred media or both can create an ideal result for the patient. The dental laboratory in-house or in-office can provide such a result. The type of materials used in recreating the missing dental structures as well as the skill of the dentist and technician are the final determinants for the restorative process.
Call our office at 913-534-8801 to start creating a smile you feel confident and comfortable in.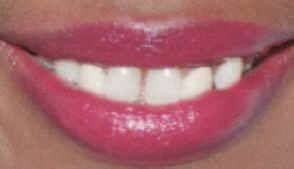 Pre-Op Smile With Defective Restorations and Space Between Anterior Teeth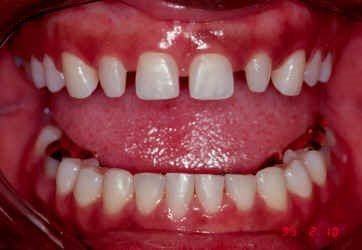 Post Orthodontic Treatment With Correct Spacing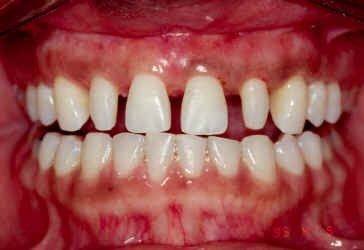 Post-Operative of Crown Lengthening Procedure With Correct Tooth Length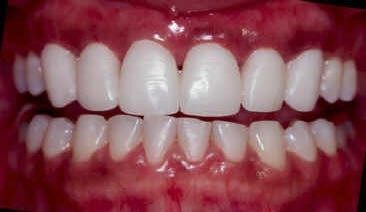 Maxillary Provisional Restorations Placed With Bleached Lower Teeth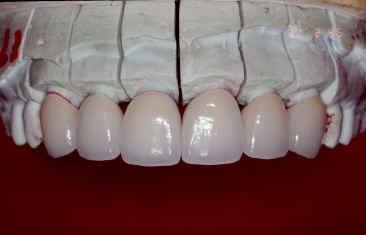 Life-Like Restorations Completed at Onsite Laboratory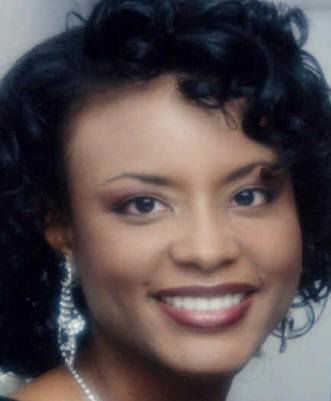 Treatment Completed With Life-Like Restorations