ENDODONTICS
If your smile has been severely damaged, we may recommend that you receive endodontic therapy. Our prosthodontist, Dr. EDward M. Amet, offers endodontic therapy in Overland Park, Kansas, at Reconstructive and Implant Dental Center. When you work with Dr. Amet and team, we will make sure that you get the best care possible. Your comfort is important to us, so we offer comfortable endodontic treatments. If you have a damaged, decayed smile, we invite you to schedule an appointment with our prosthodontist at 913-534-8801. We are sure you will love the dental care you receive.
SybronEndo: OBTURATOR-BASED ENDODONTICS
• The most elegant technique for shaping all canal forms, including those with severe apical bends and large apical diameters.
• Backed by university-based research and taught as the exclusive technique in many undergraduate dental programs.
• Extremely safe tip and remarkable cutting efficiency make these the most predictable files in endodontics.
• Still the only shaping file system available in Twisted-File form, imparting predefined canal shapes for those who would prefer to use handpiece-driven files.
• The only file that can often cut the full shape in a root canal with just one instrument.
• Ideal predefined shapes optimize cleaning and allow amazing control with Centered-Compaction Obturation techniques.
The flexible, patented RealSeal 1 Bonded Obturation System is the latest and greatest of these improvements. Plus Endodontic Obturator provides a three-dimensional fill in less than half the time it takes for lateral condensation procedures. When heated, it delivers RealSeal SE sealer, verifiers and obturators to the full working length of the canal, obturating it with a single insertion and effectively filling all available lateral and accessory canals. No other system even comes close to the seamless seal that protects and strengthens the canal, which means you get predictable, consistent results. RealSeal 1 Bonded Obturator™ is the next generation in carrier-based delivery systems. All the components of RealSeal 1, sealer, filler and core, are resin-based materials and bond with each other to form a superior seal. Creating a true chemical bond when materials contact, this proven technology provides superior leakage prevention. As an added benefit, this system's core is engineered to be easily discernable on a radiograph from the Resilon™ filling material that coats it.
Root Canal Therapy with new TF Rotary Technique
Pre-Op Radiograph Post-Op Radiograph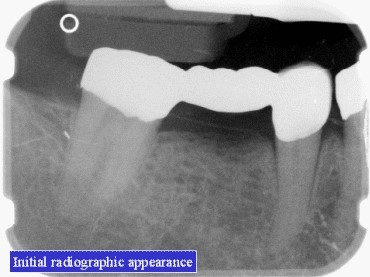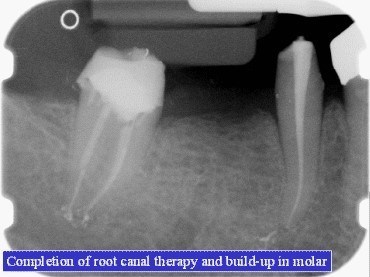 Pre-Op Radiograph Post-Op Radiograph